Recently SVR published a market analysis of three types of vehicles, namely golf car type vehicles (essentially using a golf car drive train) and off-road vehicles (UTVs and recreational vehicles. The golf car type vehicles were further disaggregated into fleet golf cars, PTVs, and light duty utility vehicles (LDUs).
While the off-road has pretty much conformed to our forecasts during 2022, the golf car side needs readjusting. In particular, all indications are:
It is growing faster than predicted, and;
Imports are far exceeding what we expected.
It must be noted, that these golf car imports are not fleet golf cars; they are PTVs. The fleet market is still dominated by Club Car, E-Z-GO, and Yamaha (the Big Three), but in the PTV segment, it has become a wide open competitive contest, and so growing month-by-month. What are the numbers year-to-date through August?
Good news for consumers
The good news for those of us within or beyond the gated community is that imports have served to drive down the overall average price of PTVs and make available products with immediate or relatively short delivery times. The on-going issue for the Big Three has been getting product to their dealers in a timely manner, with lag times still in 6-8 month range and sometimes longer.
Because demand has been increasing for PTVs, the combination of a growing market and delays on the supply side has opened up an opportunity for newcomers to enter the market and bring in dealers hungering for business.
A new supply paradigm
What has energized the new competitors has been their ability to employ a new production or supply side paradigm. There are essentially four components to this model:
Subassembly imports mainly from China;
Local, U.S.-based final assembly plants;
Quick turnaround times from initial order to delivery;
Taking advantage of existing dealer networks.
Why has this worked so well? The supply chain crunch, as well as COVID, was sand in the gears of the Big Three manufacturing facilities in Georgia. Much of the parts and components going into these domestic brands came from abroad, so that even with major components, such as batteries and controllers, and chargers sourced in the U.S., certain other parts to complete the finished assemblies were not available.
By contrast, building the subassembly in China effectively shortened the supply line so that the new competitors had the best of both worlds: A partial assembly with all the necessary parts and U.S. sourced components which were readily available. The subassemblies and U.S. components went into the new, U.S.-based factory at one end, and a finished vehicle emerged at the other.
Big Three competitive response
The well-developed dealer networks that the Big Three have put together over the years have previously been a major barrier to entry for would be competitors. In addition the proven quality of the product and the service capabilities of dealers have given the Big Three an enduring market advantage. Given the new context of the market, as briefly described above, these advantages appear to be slipping away.
In addition to fighting the headwinds of the new supply model, the Big Three has a legacy market to worry about, namely, the golf course fleet market. This was once the mainstay of the industry and the battle for market share raged year after year. Now, however, the fleet market is a legacy market that must be addressed but is neither growing significantly, if at all, and has low profit margins by comparison to the PTV segment.
The fleet legacy market is, therefore, still the domain of the Big Three but is a drain on productive resources that could otherwise be used to produce PTVs. By contrast, the newcomers, such as ICON, VividEV, and PilotCar can concentrate on the more lucrative PTV segment. These three companies are but a few of the dozen or so startups and others that have been around for a while (Tomberlin, StarEV, Evolution) that are taking full advantage of the significant market gains seen in the PTV segment.
Coleman gets into the game, using its unique distribution system
Coleman is a widely recognized brand name in outdoors and camping equipment. Not as well-known is the fact that the company is also in the personal mobility business with a wide range of vehicles from ebikes, scooters, and UTVs. For the most part retailers listed on the Coleman website are country stores and outdoor equipment suppliers. In addition, the company lists Lowe's and Walmart as distributors—so, potentially many outlets in key markets. Right now it appears that only select retailers actually carry the Coleman PTV line. (More carry the other mobility units.)
From lanterns to PTVs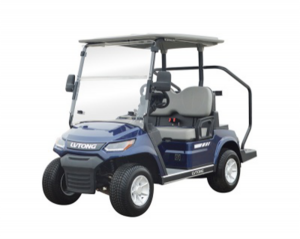 The key question consumers would have (or should have) is, who will provide service for the vehicles? A recent visit to Lowe's in Boca Raton, Florida revealed six, nice looking Coleman PTVs lined up in front of the store with a price of $8,990 boldly posted across the windshield of one of the vehicles. Lifted, nice upholstery, six 8-volt Trojan lead acid batteries, LED lights, among the more notable features. All this at a nice, quite competitive price.
Inquiries at the store's customer service counter, however, came up blank. Customer service did not know who would service the vehicle and did not even have a sales brochure. Further, there was no salesperson knowledgeable in this product line. Customer service suggested that one could go online for further information. Having done that, the only additional information, after a lot of site navigation, was a list of specifications. Helpful, but nothing about a service location or service contract.
Despite these red flags a return trip to Lowe's two days later revealed that four of the original six vehicles had been sold and been replaced on display by new ones.
What lessons for the market and industry can be drawn from the Lowe's experience?
Given the Lowe's experience, certain tentative implications for the market can be suggested:
Recognized brand names, such as Coleman, combined with a readily available supply via foreign (mainly Chinese) manufacturers are being used to promote sales, even when those brand names are not associated with PTVs or other mobility products;
Coleman attests to the dynamic growth expectations of market participants;
In the context of an accelerated import trend so far in 2022, high market growth expectations seem justified.
In conclusion, two cautionary notes
Two cautionary notes are in order regarding anticipated market gains:
Dealers and dealer networks remain the key factor in market sustainability. SVR predicts that without effective dealer support new market entrants will not perform well, despite brand recognition;
This would not be the first time that a market run-up led to overoptimism and oversupply, and eventual retrenchment.
Perhaps the biggest unknown in market development for small electric vehicles is whether the golf car-type vehicle will become a factor in urban and suburban mobility. In certain areas, PTVs are a growing part of the mobility matrix, but it is unclear if this trend will spread to more communities and will become an important consideration in urban transportation planning.
If, indeed, the urban/suburban mobility market takes hold, the current market for PTVs will look quite small by comparison.
Contact the Author: Steve Metzger at smetzger@smallvehicleresource.com. Or check out our website at www.smallvehicleresource.com, where you will find an extensive database of vehicle models and can make side-by-side comparisons of vehicles based on a full set of specifications.