The Fashion Runway of New Small Vehicles Coming Your Way
The venerable PTV, with its golf car roots, has been slowly (painfully so, in my opinion) evolving to the status of the principle transportation mode for many of getting from point A to point B. And point A and point B are getting farther apart and traveled more intensively.
There are two sets of vehicles that are moving this trend along. One set is the more familiar one to denizens of the gated community, which are upgraded, automotive-featured PTVs. The other is comprised of start-up innovators that could well bring far better performance to our communities…and beyond.
Traditional PTV upgrades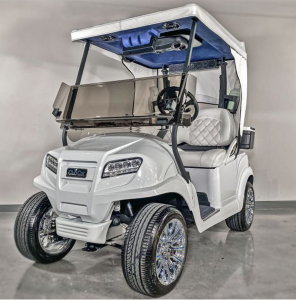 As noted, the personal transportation vehicle has enjoyed a long period of upgrading, much of it on a DIY basis, as golf car manufacturers were reluctant to steer away from the golf fleet market. About five years ago the tide began to turn as the PTV market became established. Then three years ago the Onward from Club Car made its debut, and it became clear that the PTV market was, and was going to be, the major revenue producer for the Big Three (Club Car, E-Z-GO, Yamaha).
The price points are up there. A recent visit to a dealership in The Villages in Florida revealed prices for decked out PTVs were about $15,000, with some vehicles even more expensive. The buzzword these days is "automotive features". Pictured below is a superbly-appointed Onward, courtesy Cart Mart, San Marcos, CA.
Start with the custom color, referred to as "white dazzle", and, of course, lifted with titanium wheels, and continue "under the hood" with a lithium battery-powered AC electric motor—and you have the beginnings of a top-of-the-line PTV.
The automotive features give the owner bragging rights, as well as practical comfort, and any time of day entertainment.
Looking closely under the root top and you will see Bluetooth speakers, a Cool Max Air unit, and a touch screen navigation device. You might also discern in the photo above custom seat covers.
So far we are dealing with the fairly familiar with what you may already have, or may be on your wish list. There are, however, new, small electric vehicles, which are more advanced in terms of performance and more versatile in use.
New kids on the block—move over old-style PTV
We do a quick overview of what could be coming to your gated comm0unity—a new breed of versatile vehicle suitable for within the gates and on-road use.
Arcimoto FUV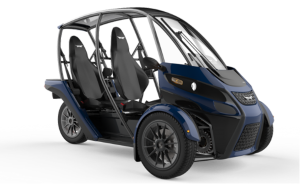 The Arcimoto is a three-wheel electric that has the good fortune of being classified as a motorcycle. Being so classified it escapes some of the rigors of crash testing required by NHTSA for on-road, high-speed use.
The Arcimoto FUV ("Fun Utility Vehicle") is lithium-powered with dual electric motors at the front wheels. It can be fully-enclosed and used within the gates as an LSV or without the gates like any other on-road vehicle. It is fast. The top speed is 70 m.p.h. If you want to use it on the golf course, I understand it can be fitted with appropriate tires to allow such.
Arcimoto is listed on the NASDAQ stock exchange. The price of the stock at this writing is $5.65 with a number of Buy ratings. The company aspires to a production level of 50,000 units per year over the next few time periods. If it does achieve this, the stock will definitely go much higher.
Ayro 311

Like the Arcimoto, Ayro 311 is a three-wheeled vehicle, and is classified as a motorcycle. It does not have some of the advanced features as the Arcimoto, such as dual electric motors. The Ayro is powered by a 10.5 hp permanent magnet DC motor and a pack of 12 6-volt sealed batteries for a total of 72volts of power. Top speed is 50 m.p.h.
Ayro is also listed on the NASDAQ stock exchange at about $2.50 per share at the time of this writing. Ayro's product and market strategy is much more directed to the light duty utility vehicle segment. This could well pay off for the company as the growth of suburban warehouse hubs continues, the latest such project initiated by distribution giant Amazon.
Ayro has already entered into an agreement Club Car to supply to Club Car with the Ayro 411, now branded as the Club Car 411. Club Car just announced the successful conversion to the 411 at Penn State University. You may well see the 411 moving about your gated community, hauling lawn maintenance equipment, picking up trash, and delivering packages.
While not a PTV, which this article focuses on, the Ayro 411 is part of what we at Small Vehicle Resource see as a systemic trend toward small, electric vehicles in the context of the emerging dispersed living lifestyle which we began writing about over six months ago.
A further step beyond the traditional PTV
Because Europe offers a somewhat different operating context than the United States, and because climate change restrictions have kicked in more quickly, Europe has seen several start-ups come to the fore, offering small, electric vehicle options that could find their way stateside. The first of these is a vehicle we have featured in the past, the
Uniti, Swedish design, U.K. manufacture
As you can see, the Uniti One is fully enclosed and resembles a small car far more than the open air PTV we are used to. While possibly finding a more welcoming home in Europe for the moment, it could find a market in the U.S. It has impressive performance statistics:
• Estimated range—95-190 miles;
• 12kWh DC charge time—12 minutes;
• 24kWh DC charge time—23 minutes;
• 12kWh AC charge time—2 hours 42 minutes (80%
at 3.5 kW);
• Acceleration: 0-60 m.p.h. in 9.9 seconds;
• Top speed: 75 m.p.h.
The Uniti One is lithium-powered with a permanent magnet synchronous motor and seats two in tandem. Selling for a target price of about $23,000, a larger four-passenger model is on the drawing boards.
Zbee—an LSV from Sweden
Classified as a L2e vehicle in the European classification system, the Zbee would be considered an LSV in the U.S. It is a three-wheeler, and in this case, as contrasted with the Arcimoto and Ayro, the dual wheel axle is in the rear of the vehicle.
While the Zbee has a nicely contoured design, strangely enough, it does not come with doors. The reason for is probably because the company has its eyes set on the delivery market, where quick access in and out would make more sense. (Yet, open air in Sweden? Sweden is not Florida! I think they will find a way to add doors for a fully-enclosed version of the vehicle.)
The vehicle is powered by a lithium iron phosphate battery, which delivers power to dual brushless electric motors at the rear wheels. Charge time with an optional external charger is a very respectable one hours. The on-board charger will charge up in 4.5 hours.
O Solo mio…Yes, "Solo" as in the electric vehicle
Apologies to the Italian, but the Solo is yet another U.S./Canadian start-up, and is listed on NASDAQ. It is well-named because, indeed, it accommodates only one person. The company producing the Solo is ElectraMeccanica Corporation with headquarters in Vancouver, BC. The vehicle is manufactured in China by the Chonqing Zongshen Automobile Industry Company. A fleet version of the vehicle was just announced this past month.
Notably the vehicle is powered by a liquid-cooled, lithium nickel cobalt aluminum oxide battery, or NCA, which as a type of lithium battery is not so well known, although according to Battery University, the product was introduced in the late 1990s. Charge time is 2.5 hours.
The Solo has a range of 100 miles, a top speed of 80 m.p.h., and accelerates from zero to 60 in 1o seconds. The vehicle seems ready for public road use at all speeds, so it is definitely beyond the LSV class. If you like traveling alone, or you make many trips as a single occupant/driver, you may find the Solo attractive.
Small, electric vehicles are in transition to broader markets
Start-ups are paving the way to new, broader markets in the post-COVID world and the dispersed living lifestyle. A good question would be whether the Big Three and smaller brands of the type will wake up to the opportunity that lies before them.
The Big Three have the manufacturing expertise and capability, and the dealer network to become dominant players in this developing market. Hopefully, they will not repeat the history of Detroit's Big Three—GM, Ford, and Chrysler—in the Sixties, when they sat back and watched their market consistently eroded by better-built Japanese automakers.
Contact the Author: Steve Metzger at smetzger@smallvehicleresource.com.  Or check out our website at www.smallvehicleresource.com, where you will find an extensive database of vehicle models and can make side-by-side comparisons of vehicles based on a full set of specifications.