The Future is Now for Club Car and Polaris
The big news this week, of course, was the sale of Club Car by Ingersoll Rand to Platinum Equity, essentially a holding company for operating entities. Mark Wagner, CEO of Club Car, had this statement, which could have been taken right out of our latest market study (see detail here): "Demand for electric vehicles across many product platforms and geographies is at an all-time high." And, he continued, "Golf remains a very stable, healthy business, while our consumer and commercial markets are rapidly growing around the world."
We at Small Vehicle Resource would fully agree with that statement. In our latest report we detailed a scenario of accelerating potential for the big three golf car manufacturers in what we broadly describe as the urban/suburban mobility (USM) market. This market is developing on the foundation of the personal transportation (PTV) market and the burgeoning last mile delivery market.
Traditional golf car manufacturers have a clear entry into the USM market, in that they have:
Highly developed expertise in electric-powered drive trains;
A well-developed sales and service network, which is nationally positioned on a geographic basis;
An ability to raise capital for purposes of expansion, based on market potential.
What is Platinum Equity?
Platinum equity is a privately-held holding company with ownership and control of 25-30 operating entities. These entities are quite diverse, ranging from integrated textiles to injection molding/metal stamping operations.
The vision of Platinum is to integrate "…traditional M&A with operational expertise…", which is implemented by "…our in-house teams [which] provide operational insights that guide the process…Under Platinum ownership, M&A&O helps our portfolio companies grow their businesses and unlock their potential."
The key words in this statement are "operational expertise", "in-house teams", "grow" and "potential". In-house teams for this sort of organization means financial people, and the expectation is an increase in profits, however this may be accomplished. The purpose of unlocking potential synonymous with this objective.
Having worked for two companies in the halcyon days of conglomerate management, I think I can say with some confidence that Platinum does not have nitty-gritty operational expertise in the companies that comprise its lengthy and diverse portfolio. What they do have are dedicated controllers and bean counters that feed data to decision makers, who have set the parameters for financial performance.
Culture shock on the way?
Given the tolerance granted to Club Car's slow growth (my estimate) over the last decade, as a subdivision of Ingersoll Rand, there could be a rude culture shock in the offing for the company. There are likely to be heightened demands for increased profitability and growth. While the transition from golf-centric to broader markets has been on-going, there will be increased pressure to get there faster.
Polaris moves into the autonomous vehicle space
At the other end of the historic divide between golf and powersports, comes the Polaris Industries announcement that they have teamed with Optimus Ride to participate in the rapidly emerging autonomous, shared vehicle market. This announcement roughly coincides with similar news from GM that the company will partner with Cruise to manufacture and sell fully autonomous vehicles in shared-ride systems on a national basis. A word about Cruise, before moving to Polaris/Optimus, because it gives an inkling of how important this relatively new mobility segment has and will become.
Cruise, from its founding in 2013 has experienced spectacular growth, and in an industry where many doubts have been raised concerning the safety of self-driving vehicles, have achieved a profound level of product feasibility and confidence. So much so that the array of backers is something like the equivalent of a mini-Dow Jones Index, to include in addition to General Motors, Honda, Microsoft, Softbank, Walmart, and T. Rowe Price. The company has raised over $10 billion in seed capital.
Polaris is in full-fledged pursuit of the autonomous, shared vehicle market
CEO of Optimus Ride, Sean Harrington's following statement reveals the core of the Polaris collaboration with regard to market perspective: "Expanding our partnership with Polaris accelerates our pursuit to transform personal mobility by delivering on-demand, autonomous transportation services to communities across the country."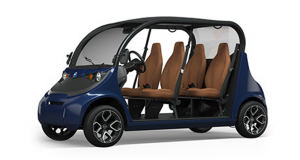 Harrington goes on to say, "Polaris is the ideal partner to bring these vehicles to market with their established leadership in the LSV space, ability to quickly scale production and their deep knowledge of and experience in urban mobility. We are excited to formally commit to transforming our mobility services to a fully autonomous experience."
The best indicator of success in this collaboration is the fact that Polaris has continued to develop the GEM product, which is clearly outside the purview of its traditional powersports market. The fact is that the company's Commercial Division has nurtured the electric market, which for the company is a niche market, and is now using that incubation to launch into a much larger potential market is telling.
Will Club Car follow the Polaris lead?
Given Mark Wagner's statement cited above with regard to the growth of diverse electric platforms worldwide, it would not be surprising to see Club Car make a move in the direction of self-driving technology. It will also be necessary, I believe, to move away from the golf-centric design of its PTVs and transporters.
Self-driving, on-call vehicles will have to be able to operate in all weather conditions (and yes, Virginia, it does rain in Florida). Although the Onward has been highly successful in the PTV market, its golf-centric feature of an open driver/passenger seating will have to change to be a contender in this market.
Please note that the open cockpit picture of the GEM above belies the fact that the vehicle is designed for easy installation of door panels and the interior can be fully weatherized with heating and air conditioning. An image of the enclosed version is seen below.
The dealer advantage: Is it real?
One of the advantages for traditional golf car manufacturers in entering the autonomous vehicle market is that the companies have an extensive dealer network that can sell into the market and service it.
Much of the adoption of self-driving technology will occur at the local level where dealers are already established.
On the other hand, golf car dealers primarily deal with walk-in customers, who are typically homeowners and most have a yen for golf. In the autonomous vehicle space, the customers are, at least initially, municipal employees. Their first concern will be safety and then how the public will react to the ride-sharing concept (without human drivers). Thus, they will be interested in setting up pilot projects. Clearly, this will require educating most local dealers on how approach the market, and will, no doubt, involve technical expertise and management collaboration from the corporate level.
Another component of the autonomous vehicle market is telematics, which local dealers may be only superficially acquainted with. All the major golf car companies have developed interconnectivity hubs to one degree of sophistication or another. So, this is another area where training and collaboration will be necessary. Despite these challenges, however, local dealerships can be a strong force for leveraging traditional golf car companies into this new and exciting market.
All eyes on golf car company moves
All eyes will be on what golf car manufacturers over the next six months to see what they will do in light of Polaris' big move into the autonomous, shared-ride market. I am hoping, and actually of the opinion, that they will follow the lead of Polaris. I look forward to writing about and analyzing this trend—so much so that I will have to adopt an acronym and call it the ASR market. That will relieve me of the task of writing over and over again, automated shared ride.
Contact the Author: Steve Metzger at smetzger@smallvehicleresource.com. Or check out our website at www.smallvehicleresource.com, where you will find an extensive database of vehicle models and can make side-by-side comparisons of vehicles based on a full set of specifications.