Will the Next Generation of PTVs Incorporate Advanced Driver Assistance Systems?
Will the new generation of PTVs feature advanced driver assistance systems (ADASs)? ADASs are a growing segment of the automotive market since they were introduced about six years ago. The technology is becoming more refined and sophisticated and is key to promoting on-road safety and the development of fully autonomous (self-driving) vehicles.
Importance of ADAS for PTVs and last-mile delivery vehicles (LMDVs)
Why might ADAS be important for PTVs and LMDVs? The ultimate goal in ADAS features is to increase the safety of the vehicle in operation. Bearing that in mind and to put an answer in context, most PTVs and light duty utility vehicles have already been upgraded with a number of features that enhance their safety on the road:
Most have headlights and taillights;
Many, probably most at this point have turn signals;
Three-point safety belts are a common safety feature;
Backup cameras are common option is some PTV and LMDV models;
Speed monitors are found in all vehicles, keeping speeds at levels consistent with local, State, and Federal regulations.
Thus, additional ADAS features would not be a radical departure from current norms, but rather would upgrade and complement existing safety attributes.
What are the additional ADAS features, and are they necessary?
Before outline the specific ADAS features that could be integrated into PTVs and LMDVs, consider the fact that the operating environments of small electric vehicles is changing. In the past and for the most part currently, as well, PTVs and light duty utility vehicles operate in areas where they do not heavily compete with on-road vehicles, scooters, and bicycles. Nor is their operation typically in areas where there is significant pedestrian activity.
Nonetheless, these type vehicles are involved in numerous accidents every year. In an article published by Safe America, an organization focused on consumer safety, golf cart accidents have resulted in about 15,000 injuries per year requiring emergency care—and in some instances the accident proved fatal to the driver, passenger, or pedestrian.
These typical operating environments are changing:
PTVs are reportedly operating in suburban neighborhoods as a means of meeting with neighbors, making runs to the local convenience outlet, going to local parks. They are progressively more active on public roads within neighborhoods. Many dealers are reporting more demand for LSV-certified vehicles (albeit dealer experience in this regard is still quite varied), or vehicles not so certified, but with similar features.
The market growth opportunity for light duty utility vehicles lies in last mile delivery. While there are a host of vehicle types vying for a piece of this action, based on the broad range of potential operating environments and the immense variety of goods actually being delivered, it is almost a certainty that light duty utility vehicles, with certain modifications, will participate in this emerging market.
A personal anecdote regarding the changing operating environment of golf car-type vehicles: A recent stay in Ft. Lauderdale at the Riverside Hotel gave occasion to observe golf cars in operation on East Las Olas Boulevard and elsewhere in the heart of the downtown district. Traffic was heavy, but the PTVs operated quite nicely in this environment, easily keeping up with the traffic flow. (Note: traffic flow tends to be rather slow, because of the congestion.) The critical point is that these PTVs were far from the golf course and the gate community.
ADAS likely to become a regulatory requirement
Given the expanding and more complex operating environments of golf car-type vehicles, and the increasing potential for more accidents, it is highly likely that regulatory authorities, particularly at the State and local level, will be mandating improved safety components as time goes on time. For golf car manufacturers, it will be important to stay ahead of these developments by taking the lead in integrating new safety systems into their new models.
Passive vs. active systems
In a nutshell, passive systems protect vehicle occupants from the effects of an accident, whereas active systems are geared to preventing the accident altogether. ADAS systems are primarily of the active type. The table below provides an overview of the principal active systems either on the market or under development. These systems are:
Vision systems, monocular and stereo;
IR (infra-red) systems;
Lidar devices; and
Radar designs.
Each of these technologies has its advantages, offering certain benefits. At the same time, each has certain limitations, as summarized very briefly in the table. Information in the table draws upon an excellent survey of ADASs, which appears in the IEEE Consumer Electronics Magazine, September 2018, by Vipin Kumar Kukkala, Jordan Tunnell, Sudeep Pasricha, and Thomas Bradley, entitled Advanced Driver-Assistance Systems, a Path Toward Autonomous Vehicles.
If you want to delve a bit deeper into the subject of vehicular safety systems, especially active systems, which are preventive in nature, and form the path to autonomous, self-driving vehicles, this article is a good place to start.
OVERVIEW OF ADAS TECHNOLOGIES AND APPLICATIONS
While ADAS technologies have now been widely adopted for conventional, on-road vehicles, they are not a feature, as yet, of small, task-oriented vehicles (which includes golf car-type vehicles such as PTVs and light duty utility vehicles). The rapidly emerging and expanding USM market will find ADASs a welcome attribute in the vehicles that service this market.
A company from Taiwan may well provide the solution for active ADAS technology for golf car-type vehicles. The company is Turing Drive, and its executive team, headed by Hubert Chen, Chairman, and David Shen, CEO, will be focusing on the U.S. market over the coming months. Their specific goal is to collaborate with one or more golf car manufacturers to install and demonstrate the Turing Drive ADAS product, and to assist in developing a product line featuring the benefits and value-added of ADAS technology.
Key attributes and components of the Turing Drive ADAS
The Turing Drive ADAS offers two key accident prevention attributes:
Obstacle detection, including pedestrians, other vehicles, and stationary obstacles, thus preventing collisions and accidents. Automatic emergency braking is a feature of the system.
Precise vehicle positioning via GNSS/INS, thus enabling lane departure warning and geofencing. (GNSS/INS stands for global navigation satellite system and inertial navigation system. You can find numerous depictions of this technology on YouTube.)
The hardware components of the Turing Drive system, which is installed on each vehicle are seen in the picture below and consist of a vision sensor, or camera, the GNSS/INS hardware, and the system's computer.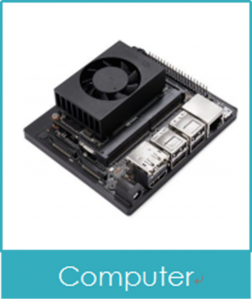 Images Courtesy of Turing Drive
Market outlook for ADAS in PTVs and light duty utility vehicles
Given the growing use of PTVs and light duty utility vehicles in urban/suburban contexts, as described above, and the fact that ADAS technology is not yet available for golf car-type vehicles in the U.S. market, the Turing Drive executive team—which includes in addition to those mentioned above, Lee Shen-fa, CTO, and Stephen Liu, Director of Business Development—are optimistic that company's ADAS solution comes to the market at the right time.
With the increasing focus on vehicular safety by public officials at the Federal, State, and local levels, it is highly likely that ADAS will become a standard option, if not a regulatory requirement in the near future.
Contact the Author: Steve Metzger at smetzger@smallvehicleresource.com. Or check out our website at www.smallvehicleresource.com, where you will find an extensive database of vehicle models and can make side-by-side comparisons of vehicles based on a full set of specifications.