"L" Soundbar Mounting Brackets by ECOXGEAR
ECOXGEAR's new V5 universal "L" mounting brackets are designed to provide mounting solutions for many golf carts in the market. The "L" bracket design is widely used on EZ-GO carts to mount the soundbar at the top of the rear roof, or the front roof if there is no windshield (will not fit on top-front if there is a windshield on EZ-GO).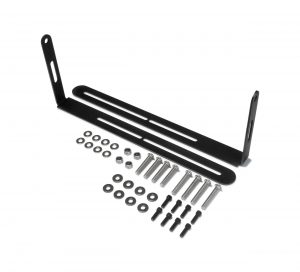 The "L" bracket also works great to mount the soundbar above the seats behind the driver's head using the rear struts on the majority of carts.
"L" brackets may require holes be drilled into the strut. With adjustable slots, the V5 mounting brackets are compatible with ECOXGEAR's SE18, SE26, SEB26, and SEDS32 soundbars. Bracket kits include: "L" shaped mounting brackets 8 screws and washers to mount to speaker and installation guide.
About ECOXGEAR:
Based in San Diego, California, ECOXGEAR is the leader in rugged, portable, and waterproof audio solutions catering to the outdoor world. ECOXGEAR's offers a variety of lifestyle audio solutions for snow, powersports, campers, and any outdoor enthusiast. Each of its innovative products support true IP66/IP67 waterproof standards and exceed military specifications 810G. Check out ECOXGEAR's growing line of golf car, powersports and portable audio solutions at www.ecoxgear.com